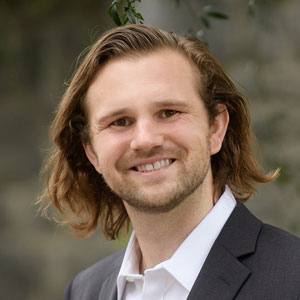 James M. Cabot
Associate Attorney
Career inspiration can come from many sources. For James Cabot, who goes by Jake informally, that source was someone he never had the opportunity to meet. Jake's great-grandfather was a respected attorney who practiced in San Francisco long before he was born. But the legacy of professional and family leadership he left behind made an impact on Jake, who decided to follow in his admirable footsteps. On investigating the realities of the profession as his education progressed, this desire was reinforced in its potential to combine his enjoyment of research with the potential to be of service and support to others.
After joining Goodman Law Corporation as an associate attorney in the fall of 2021, Jake was gratified to be admitted to the California Bar a few months later. In his current role, he contributes to client representation through research and writing of discovery, complaints, and other documents that support the client's objectives. In these initial experiences with the firm, he especially enjoys getting to know each client, digging into the details of their matter, and feeling the satisfaction of getting fully behind their goals and working in alignment toward a positive outcome.
Background & Education
In what has become a family tradition for multiple siblings and cousins, Jake followed his older brother to Baylor University in Waco, Texas for his undergraduate study in Management Information Systems, also completing minors in Environmental Studies and Legal Reasoning and Analysis. Despite his established goal of practicing law, this well-rounded business education provided a foundation that will serve clients in many industry segments.
Jake earned his J.D. from the University of California, Davis School of Law, where he served as treasurer of the Business Law Society, staff editor of the Environmental Law and Policy Journal, and co-chair of the Wine Law Society, as well as participating in the Intellectual Property Law Association.
Personal
Outside the legal realm Jake's interests follow a complementary theme of precision, curiosity, thoroughness, and goal-orientation. One of these is woodworking, which combines the pleasure of manual effort with the technical knowledge of tools and materials to create beautiful and functional furniture. Golf is another interest – though he confesses that this early stage of his career calls for less time on the links than he was able to spend as a student. In company with his fiancé and their two rescue dogs, Jake also enjoys hiking, for which the Sacramento region has no shortage of appealing trails.