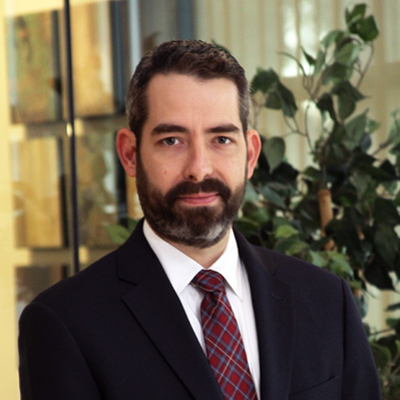 Jared Walker
Of Counsel
Jared represents business owners and professionals in matters pertaining to professional liability and legal malpractice. Before joining Goodman Law Corporation, Jared operated a solo practice in which he litigated a wide variety of matters, including real estate and business disputes, injury and casualty claims, lender liability issues, and administrative appeals. He also represented clients in legal malpractice cases, the complexity of which he found particularly compelling. "There are so many moving parts in each case. Evaluating the subjects associated with each underlying matter—and figuring out where things went bad—is fascinating to me."
Professional and Civic Engagement
Jared is a member of the Sacramento County Bar Association, the Capitol City Trial Lawyers Association, the National Association of Disability Representatives, and the Sacramento County Bar Association. He provides monthly legal aid services to students at Sacramento State University, is a former delegate to the Conference of California Bar Associations, and has volunteered as a mock trial coach for local high school students.
Background and Education
After graduating from the University of The Pacific McGeorge School of Law, Jared launched his career at a large east coast law firm as a commercial litigation associate representing large banks, energy companies and real estate developers.
Motivated to switch gears and represent regular people in tough spots, Jared went on to begin a solo practice in Sacramento near where his wife grew up. Over the ensuing eight years, he fielded a wide variety of cases including family law, business and real estate litigation, real estate and business transactions, contract drafting, small business counseling, landlord tenant and evictions, personal injury, preparing wills and trusts, and social security disability hearings.
In 2016, Jared met Karen Goodman, whose help he enlisted to take a large legal malpractice case to trial. Not long afterward, Karen asked him to join her on a legal malpractice case of her own. Given their ability to work well together, having Jared join the Goodman team seemed like a natural choice.
Admissions and Certifications
Jared is admitted to the California State Bar and the Florida State Bar (inactive). He is admitted to the Eastern, Northern, and Central U.S. District Courts as well as the U.S. Ninth Circuit Court of Appeals.
Personal
Jared and his wife have three young children. As such, he doesn't have quite as much spare time as he used to, but he looks forward to the rare opportunity to get outdoors to engage in activities such as camping, hiking, backpacking, fishing, kayaking, biking, snowboarding and gardening.