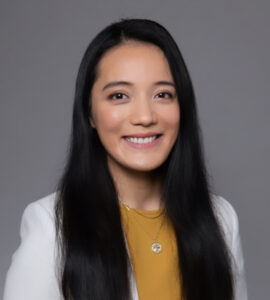 Lia Sta. Maria Baligod
Associate Attorney
Goodman Law Corporation was pleased to welcome Lia Sta. Maria Baligod to the firm's civil litigation practice in April 2023. In her role, Lia enjoys the challenge of investigating relevant evidence and applying her legal perspective to craft compelling and persuasive arguments to advocate for her clients. With previous professional positions ranging from business, family, and humanitarian immigration, Lia draws from extensive experience in transactional work and litigation in both federal and state court settings. She has interned with the U.S. Department of Justice, worked as a post-bar fellow at Asian Pacific Islander Legal Outreach, and was most recently immigration counsel to a Fortune 100 technology company. Lia speaks English, Spanish, and Tagalog.
Education and Admissions
Lia obtained her Bachelor of Science in Psychology and Spanish Literature minor from the University of California, San Diego, where she was involved in community activism and multiple peer mentorship enterprises. In pursuing her Juris Doctor at Seattle University School of Law, Lia was elected to the Student Bar Association and served as a student liaison for the Washington state Supreme Court's Minority and Justice Commission. She was also an associate editor of the American Indian Law Journal and was named the Vietnamese Bar Association of Washington's 2018 Hong Duc Scholar, for which she spent the summer in Ho Chi Minh City, Vietnam as a legal intern at a top global law firm.
Lia is admitted to the California Bar and the U.S. District Court for the Northern District of California.
Personal
A certified yoga-Pilates-HIIT fitness instructor, Lia believes in holistic wellness and has initiated workplace well-being programs during her prior roles. She appreciates opportunities to connect with nature, especially playing outside in the sunshine with her energetic toddler.