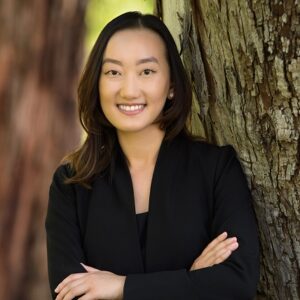 Shirley Yang
Associate Attorney
Shirley developed a passion for advocacy at a very young age. Seeing her parents and other family members face struggles due to language and cultural hurdles gave her a keen appreciation for the value of informed representation. As her vocation progressed from undergrad to law school, she applied this passion through research and mentorship roles focused on vulnerable and undeserved populations. "I found those experiences of giving back to the community really fulfilled me," she notes.
Stepping into her current position with Goodman Law Corporation, Shirley brings the same spirit of empathy and compassion to clients in the civil arena. She loves the chance to work one-on-one, and to learn about the wide variety of legal matters that face business executives. Her approach remains rooted in diligent preparation, thorough research, and clear communication, adding, "It's so rewarding to work directly with clients, especially when I can simplify and synthesize information to help make matters clearer and less intimidating."
Background and Education
Following her undergraduate degree in Political Science International Relations from UC Santa Barbara, Shirley earned her JD from University of the Pacific McGeorge School of Law, with Trial and Appellate Advocacy Certificate Concentration. She was admitted to the State Bar of California in January 2021.
Shirley gained a deep body of experience in research and advocacy support for academic and nonprofit programs in the criminal justice sphere, with a special focus on youth and public health initiatives. She has published technical reports within this subject area. During law school, she began a certified legal internship with the Sacramento District Attorney's office, where she was eventually promoted to deputy district attorney in 2021 after admittance to the State Bar.
Throughout these experiences, Shirley has been recognized with multiple awards for excellence in oral and written communication. She has honed her capabilities in legal research, policy, and motions work, built on a deep-seated work ethic that aligns well to benefit the civil clients she counsels in her current role.
Shirley is fluent in Hmong and English.
Personal
Shirley maintains close connections with family living in the Sacramento area. She is an avid reader, with a preference for non-fiction, memoir, and poetry genres – and prefers old-fashioned paper and ink to digital formats in her library. Maintaining a regular personal journaling habit, she hopes one day to publish books of her own – possibly targeting the early childhood and youth populations for which she has long advocated. For fitness, she practices yoga. And when her workload allows, she enjoys wine tasting at the range of notable vineyards around Northern California.