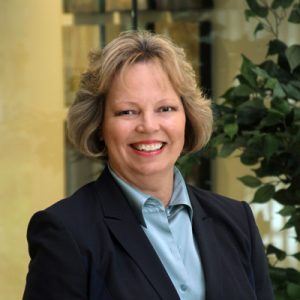 Karen Goodman
Founding Attorney
To see a complete list of Karen Goodman's articles, leadership roles, speaking engagements and more, download her curriculum vitae here (PDF).
Karen Goodman represents business owners and professionals in and out of the courtroom in matters pertaining to professional liability, real estate and employment. Certified as a Legal Specialist in Legal Malpractice Law by the California Board of Legal Specialization, Karen is also the attorney other attorneys and licensed professionals consult for advice on ethical questions. Her ability to quickly evaluate the merits of a case is a powerful asset in shaping outcomes for her clients. She says that "rectifying messy situations and righting wrongs" is what gets her up in the morning.
Honors
Karen has received numerous accolades and recognitions over the years, including the Martindale-Hubbell rating of AV Preeminent® with a score 5.0 out of 5.0. She has been named a "Super Lawyer" of Northern California, one of "Top Women Lawyers in Northern California," and one of "Best Lawyers–Real Estate." She has received the Harry Sondheim Ethics Award from the State Bar of California and the Frances Newell Carr Award from the Women Lawyers of Sacramento.
Professional and Civic Engagement
Throughout her career, Karen Goodman has been an active member of the legal community, providing leadership and support in a variety of organizations. She has chaired the Committee of Bar Examiners, the California State Bar Task Force to Revise Discipline Standards, and the American Bar Association GP/Solo Litigation Committee. She is a member of the American Board of Trial Advocates where she serves on the Sacramento Chapter's Board. She has also been a staunch advocate for women who practice law. Karen has serve as president of California Women Lawyers and also President of Women Lawyers of Sacramento. For a complete list of Karen Goodman's professional and civic involvement, download her CV (PDF format).
Background and Education
Karen has had a distinguished legal career. After graduating with honors from University of San Francisco School of Law, she was recruited by a large Sacramento firm before she had even taken the bar exam. After spending a month trying cases with the district attorney's office, she found she had a knack for connecting with juries—a realization that would shape the trajectory of her professional future. She was made a partner of a San Francisco based professional liability firm when she was 30 years old, but eventually came to the conclusion that what she really wanted was to take charge and start her own firm. In 2003, she founded Goodman Law Corporation (originally Goodman & Associates) and has been busily serving her clients ever since.
Admissions and Certifications
Karen is admitted to the California Bar, the Eastern and Northern Districts of the United States District Court, and the Ninth Circuit Court of Appeal. In addition, she is a California State Bar Certified Specialist in Legal Malpractice Law and is a Legal Malpractice Diplomate of the American Board of Professional Liability Attorneys.
Personal
Karen is a dedicated runner, logging 3–5 miles every day, rain or shine. This includes Saturdays, Sundays and during trial. As an empty nester, she has become a "gym rat", including weight lifting, fitness classes and personal training. She's also an avid golfer and dog walker and a passionate follower of Notre Dame football.