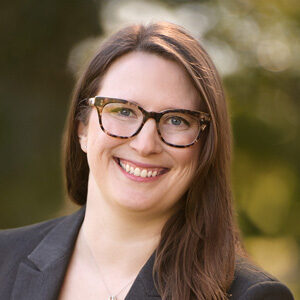 Emily Norris Clark
Associate Attorney
Goodman Law Corporation was pleased in 2022 to welcome Emily Norris Clark to the firm's civil litigation practice. In her role, Ms. Clark relishes the challenge of investigating relevant evidence and applying her legal perspective to craft compelling and persuasive arguments to advocate for her clients. With previous professional positions providing a range of experience in both federal and state court, she draws from experiences in construction defect, real estate, and healthcare, including both litigation and transactional work, from licensing to representation of clients in administrative agency hearings. She has previous experience advocating for clients in arbitration and mediation settings, as well as representing clients in trial, and has experience in all aspects of litigation from discovery through trial, and in negotiating settlement.
Background and Education
Ms. Clark also brings a uniquely global perspective to her work supporting Goodman clients, having spent a decade of her youth growing up in West Africa and Haiti, along with extensive personal travel that spanned Africa, Asia, Canada, the Caribbean, Europe, South America, and the South Pacific. Fluent in French, conversant in Spanish, and learning Mandarin, she shares that the breadth of these world experiences has fostered a keen interest for the impact of varied political systems and the benefits of a representative and democratic government. In more human terms, she understands that her role as an attorney is part of a larger legal and democratic system, and takes pride in advocating for clients as part of that system –– perspective that lends insight to her work across the civil spectrum.
Ms. Clark's desire to pursue a legal career began in her undergraduate political science studies at the University of California, Davis, where she graduated with highest honors. Learning about political science and the impact that specific legal or judiciary systems have on the wellbeing of society, inspired her to become an attorney and became an actor within the legal system. From there, she earned her J.D., cum laude, from the University of California, Hastings College of the Law, where she ranked in the top 14% of her graduating class and served as executive editor of the Hastings International and Comparative Law Journal. She was also honored with numerous awards for her prowess in research, writing and oral advocacy. Her final year of legal education included a semester at the Jiao Tong University, KoGuan Law School, where she completed coursework in Chinese Law.
Personal
Having launched her legal career in the Sacramento region, Ms. Clark now resides in West Sacramento, not far from the Davis community whose breadth of cultural offerings and small-town feel framed her undergraduate years. Between her busy professional schedule and maintaining an older home, she enjoys yoga, biking, walks with her miniature pinscher chihuahua Louie, and sampling the produce and ambiance of local wineries and breweries.